"Visionaries are the ones who realize their childhood dreams"
George Tsimpikos is the co-founder and Managing Director or, as he would rather be referred to, the team principal of Orama Minimal Frames. Over this post, he gives us an insight into his world and the minimal frame business, the company vision, the people he enjoys working with and the international network the company has developed.
How it all started
In the midst of the Greek financial crisis, as the aluminum frame trading and installation business George and his brother had inherited contracted, they began thinking about the potential future. The new business venture was named after the Greek word for Vision (=όραμα) and Orama Minimal Frames was born in 2014 as a partnership with EXALCO, a major extrusion unit, with a mission to "develop a complete range of state-of-the-art  window systems that maintains the architects' design intent –no matter how extreme or ambitious".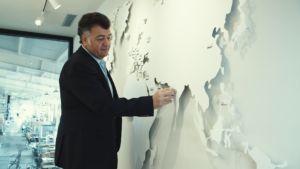 Outside of Greece, the first countries Orama exported to was Belgium and Luxembourg. "We started small, but we dreamt big" and gradually the Middle East, Australia, Italy and the US were added as new export markets. Today, almost 10 years since its founding, Orama Minimal Frames is a Greek brand with an increasingly international presence in China, Indonesia, the Philippines and soon throughout Asia, with the support of a network of "trusted partners who value the European identity of the products, their outstanding quality and flawless appearance". 
George's respect for his team and partners is evident. "Our greatest success and most valuable asset is our people; first and foremost all our company employees, from the technicians, the administrative staff and the account managers, to the sales team headed by my dear colleague Francis Flamant, and second Orama's network of partners, which extends to over 35 countries. We all share the same passion for the job and a desire to overcome challenges".
Architecture has always been driven by human needs
The need for shelter, security and sanctuary. Today, it is also about the need for flexibility, environmental considerations, personalization, innovative materials and technologies. "As a company specialising in the design of minimal frame solutions, we relish the challenge of bringing our expertise to the table and working alongside our partners to develop the products that will bring the architects vision to light".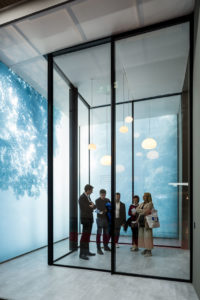 Architects are unique in their way of thinking; they have to be savvy as engineers and businessmen but they are also deeply engaged as designers and artists, and George Tsimpikos knows this all too well. "This brilliant balancing act of analytic and artistic creativity has inspired the design of our products and influenced the way we collaborate with the architects".
Every project starts with a clean slate. Orama Minimal Frames designs and develops tailor-made window systems, working closely with its partners-manufacturers and offering know-how and support throughout the project. "Our expertise lies in developing custom solutions for our clients. If someone told us they needed a pivot window 5 meters high, we would sit down together with our partners and find a way to make it happen. This is what we love about our profession and what we thrive on". The Royal Atlantis Resort & Residences in Dubai is the largest project of Orama with almost 35,000sqm of minimal window panels "for which we offered our expertise and raw materials".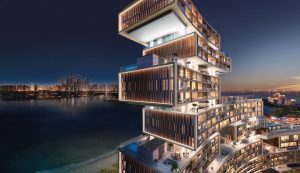 Just before the Covid-19 pandemic brought everything to a standstill, George Tsimpikos used his travelling to oversee a project as an opportunity to experience and draw inspiration from the work of modern-day architects who lead the industry with their brilliant building design. "One of our projects that really made an impression on me is Álvaro Siza's newest housing condominium developed in partnership with the Portuguese office COR Arquitectos and built in Gallarate, in the Italian region of Lombardy". The complex recreates two local typologies – the Italian courtyard and the secluded villa – in a set of volumes that hints at the shapes of another one of Siza's masterpieces, the Porto School of Architecture. "I have also seen some very interesting examples of residential architecture in Santa Barbara, Malibu and Palo Alto, in California. Regardless of whether the architect is famous or not, there are indeed modern buildings that have a truly sophisticated personality".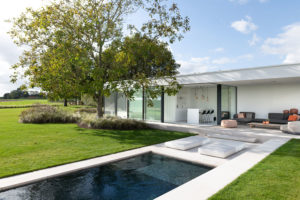 A well-designed building, whether residential or commercial, is one that abstains from distractions in favor of mindful connection to place. "Looking at some recent examples of housing built into the ground, I sense that connectivity has maybe reached a saturation point for many, and we are now in search of spaces that maximize our experience of nature". 
Climate change is the fundamental design problem of our time. Countries such as Belgium, the Netherlands or Luxembourg with generally mild winds, are gradually adopting new vertical glazing regulations in the wake of extreme weather conditions that until recently were characteristic of regions surrounding the Mediterranean sea or Asia. "Technical challenges like improving window statics or water drainage, while at the same time maintaining extremely narrow window frames and allowing for more glazing area, are open-ended problems that require creative solutions and rigorous technical precision".
Do something new every day
Tackling technical challenges, brainstorming for new products, collaborating with partners or analysing commercial prospects for Orama, no day is the same in the life of George Tsimpikos. "Throughout my career I have grown by accepting the challenges that are placed before me. I always look forward to spending my day working with other people, solving problems, finding ways to create something that is new and exciting".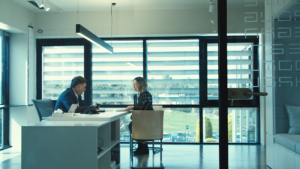 The recent Covid-19 pandemic has created a 'hybrid' way of working that has greatly impacted the way people communicate, connect and create. "Sitting around the table to discuss a project is such an important part of my work philosophy. Having to give this up and rely only on electronic communications to do business has proved a great challenge for me". 
Creating life balance to achieve success
According to George Tsimpikos, having a clear understanding of what we want to achieve and striking the right balance between the time spent with family and loved ones and the time we spend working, is a good starting point for achieving business and personal success. "It is about having all forces in equilibrium, about living with purpose and loving what you do… It is just so important. As my friend and colleague Francis Flamant says and I quote, it is very essential to have fun at your job, to love what you do for a living and have fun doing it".
Moving his home and the headquarters of Orama to Loutraki, a coastal town on the Corinthian Gulf just 78km from Athens, and a popular holiday resort during the 60s and 70s, might have seemed an unorthodox business decision a few years ago, but according to George the move has been beneficial for many reasons. "Part of the draw of coming here is that you are so much closer to nature; you go out for lunch and you can just smell the sea; everyone comes back to the office refreshed and ready to go".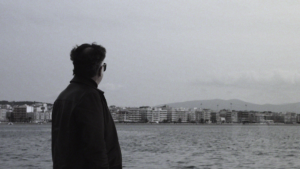 Visionaries are the ones who realize their childhood dreams
"The people who have a clear idea of how the future should look; the ones who never settle for 'good enough', who are resilient and resolute, and never give up; who embrace creativity and value collaboration; who see the world differently and strive to leave a legacy for the generations to come. Those people are the visionaries".