"…in order to be a visionary one needs to be able to imagine a positive future, to have stamina and a good team by his side; a person who plans, makes the effort, and works around obstacles in order to reach his goals."
It all started around 2002 when Konstantinos Karampatakis and his brother Dimitris decided to launch a "design practice rooted in Architecture" from their student flat in London. Since then, K-Studio has evolved into a practice of 75 people with a list of impressive residential, leisure, and infrastructure projects in destinations as varied as Mykonos and the Peloponnese, Israel, Qatar, Turkey, Panama, and Kuala Lumpur.
It may seem as if Konstantinos had his life's path mapped out for him from an early age. His parents —both of them architects— used to take him and his brother to different construction sites as a weekend family activity. "It's almost as if they were planting the seeds way ahead; so, when we started thinking of our undergraduate studies, architecture was something that just came so naturally to both Dimitris and myself."
A hub for all things creative
While the element of collaboration has been there from the very beginning, it has grown steadily with the firm taking on more significant projects and expanding into other architectural sectors. "Our aim is to have our studio functioning as a central hub; we've always been keeping conversations going with larger and smaller architectural firms and specialist design experts, sharing ideas and knowledge, and combining our practices to add value. For us, the rationale for collaboration is always quality and creating the right conditions in order to deliver projects of the highest standards."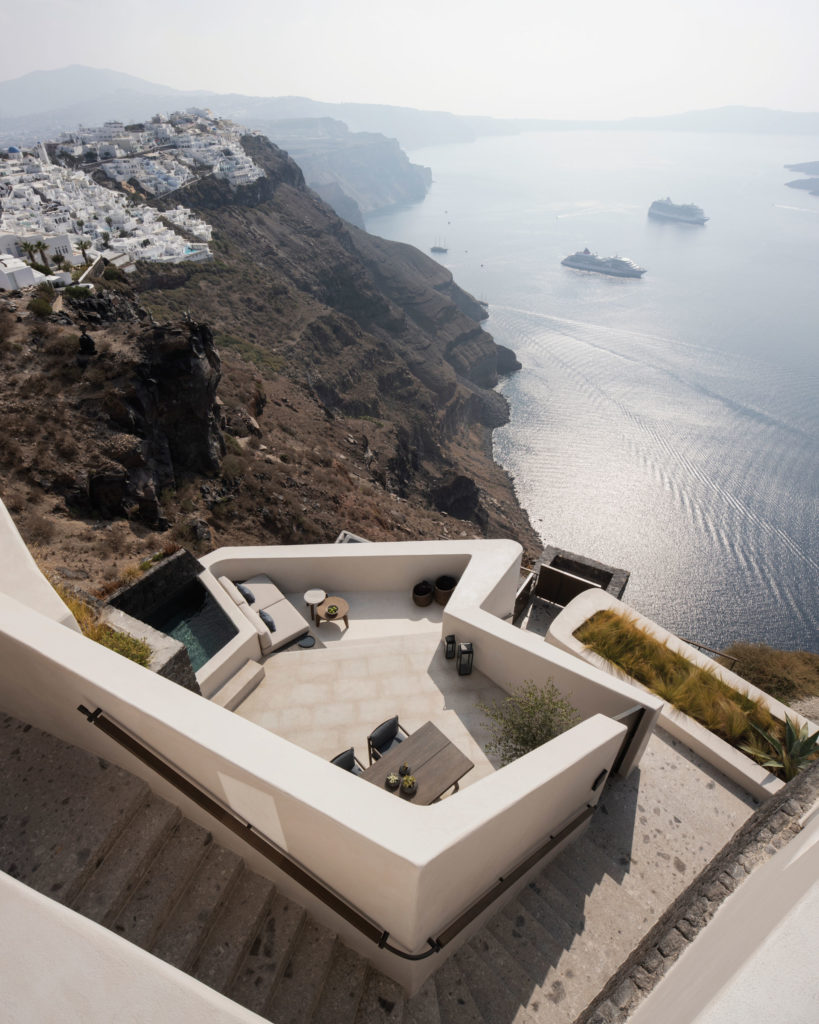 A detective-like approach to design
Konstantinos believes that in order to design buildings that merge light, wind, topology, human needs, and intentions into a holistic approach, an architect must display the ability to think analytically and to have the kind of mind that is constantly seeking to find ways to fix problems and overcome challenges.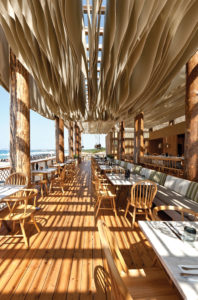 "One could argue that each project we've been invited to collaborate and work on is —at least in the beginning— a collection of imperfect conditions. Some of them are obvious. Like having a location with strong winds and great views… what do you do when the views are so great? Or, how do you stop the wind from hitting the building face-on?" 
A good example of such a project is the Barbouni beach restaurant in Costa Navarino, K-Studio's first collaboration with TEMES Group, a leading investor, developer, and operator of high-end tourism and real estate destinations in Greece. "Keep the views, stop the wind" was one of the client's main requests but K-Studio came up with the idea to "keep the views, use the wind". The structure of the building is formed by a grid of natural wooden columns. Over the dining area, an inverted field of hanging fabric sheets forms a canopy that sways soothingly in the dissipated wind, allowing air to circulate and the space to stay cool.
"Each project has its own quirkiness," says Kostantinos. "The first thing we do is try to think like a good detective. We break down all the parameters of the project —what is good and what needs to be reevaluated. Then we investigate every aspect of it creatively."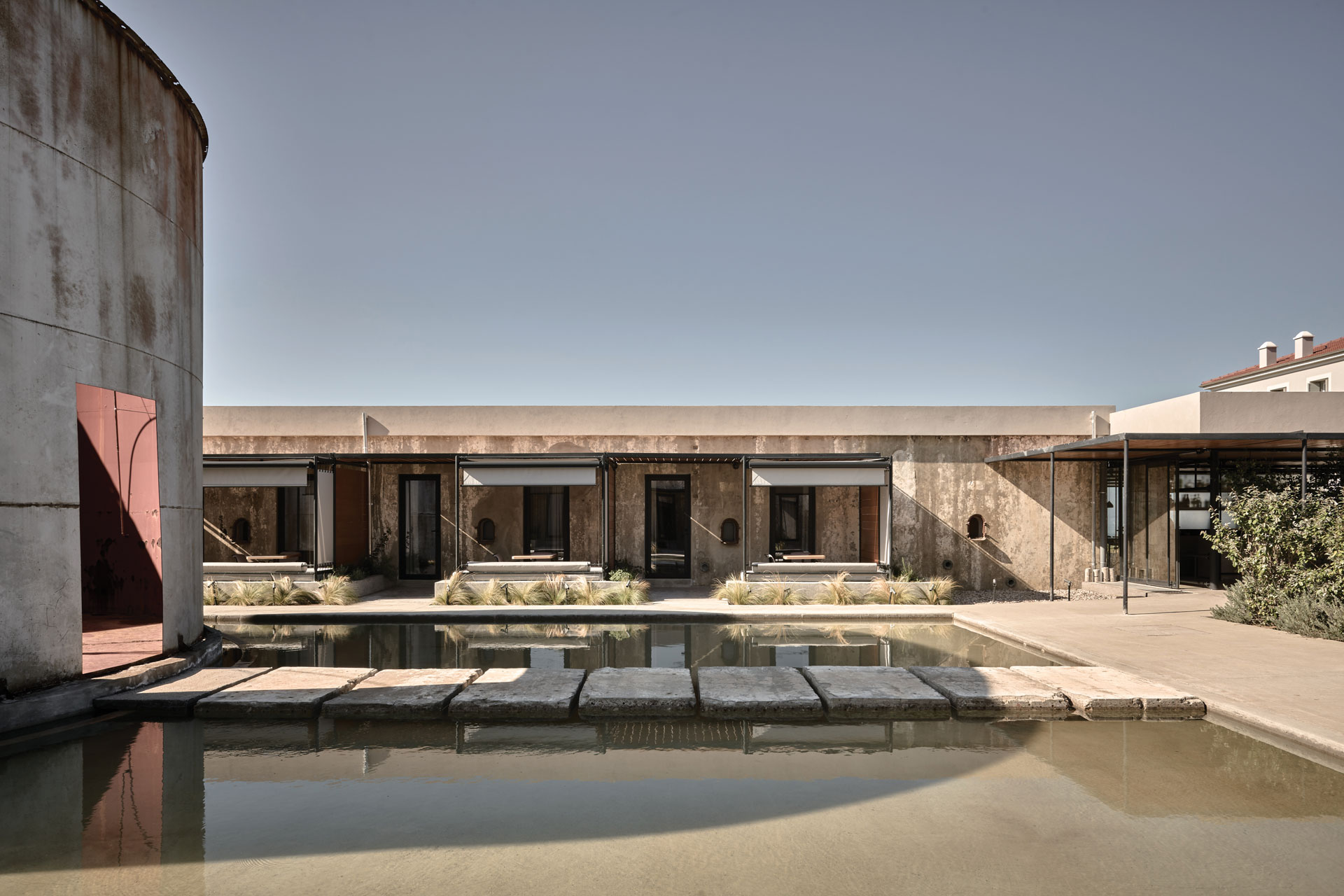 Sometimes, doing less is even better
If the past two years have taught us anything, it's that we cannot possibly anticipate what the world will look like even in five years' time. But that doesn't keep Konstantinos and his team from looking to the future, rethinking the way things are done, and coming up with fresh ideas to deliver long-term value.
"I am optimistic because I believe that technology will bring a merging of knowledge and expansion of the mind, allowing us to better understand nature and ourselves. I also believe it will bring forward the need for more sustainable building projects. I am hopeful it will shine a light on the things we don't do so well. It can teach architects to be less extravagant, less invasive, and a little bit more thoughtful; because bulldozing your way through and building something from scratch is not always the most energy-efficient way of doing things." 
This "treading lightly" philosophy is evident in the way K-Studio approached the project of Dexamenes, a seaside hotel that opened in 2020 at the site of an abandoned old wine factory in western Peloponnese. "From the outset, it was clear that the strong history and raw beauty of the existing buildings should not only be preserved but showcased in a design that would breathe new life into their walls. I can safely say that the success of this project lies in what we didn't do; in what we preserved and what we reused."
Shared Beliefs, Shared Goals
With regard to their current projects, K-Studio has been working alongside Tombazis & Associates Architects for the design of the Mandarin Oriental 5* hotel at Costa Navarino, the first property of the Mandarin Oriental Hotel Group in Greece, due to open in 2023. " This project has proved a great challenge for our practice, mostly because of its size and ambition. But it's been wonderful working with Tombazis & Associates Architects and we have learned so much from this collaboration."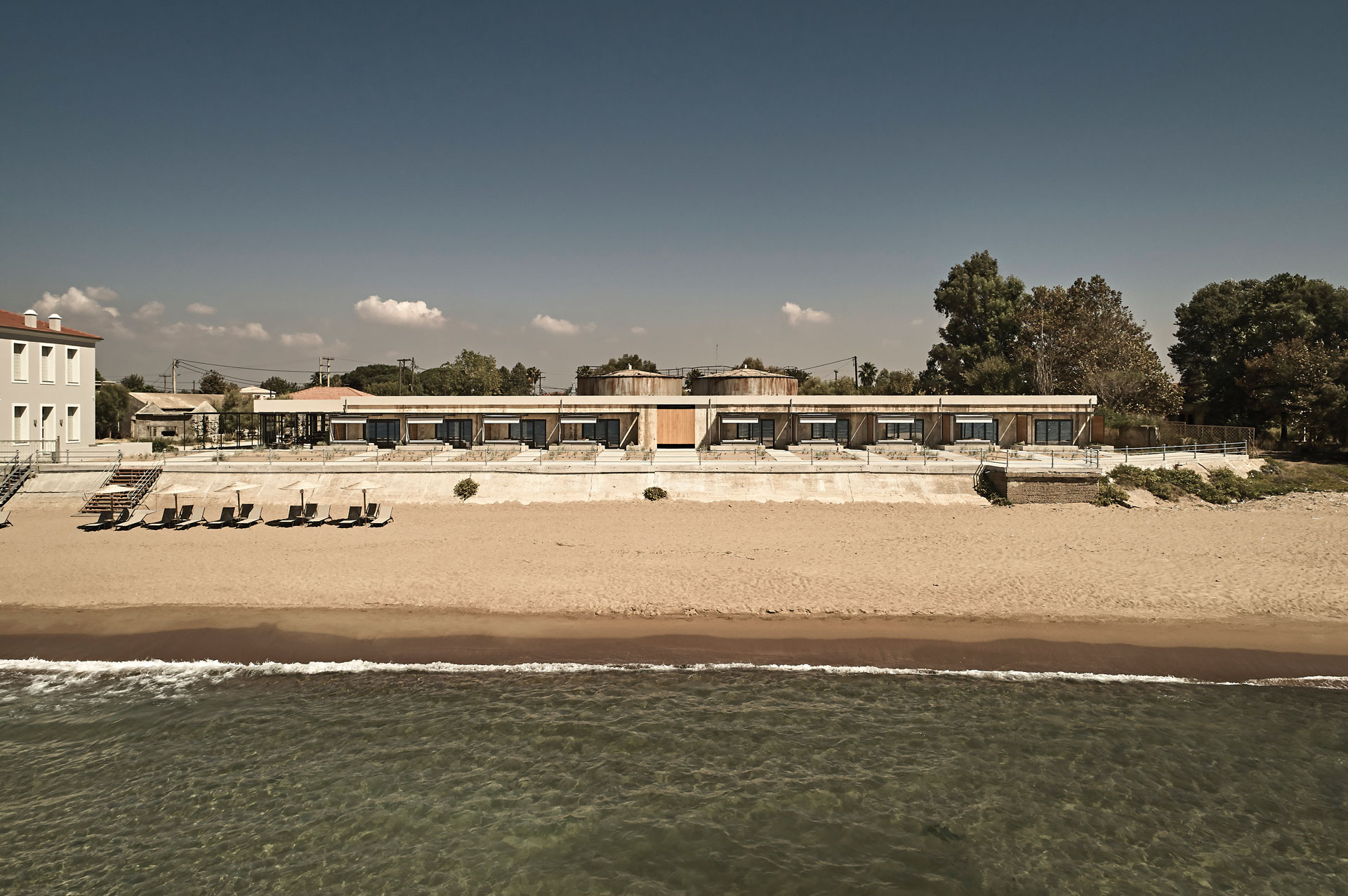 For Konstantinos, the importance of collaborations bound by shared beliefs and goals is indisputable. "When different people —or in our case, clients, architects, and contractors— are united around a common cause, it's indeed, something very special. Such is the relationship we have with Orama Minimal Frames. During this project, with seamless transitions between inside and outside spaces being of the utmost importance, we became truly aware of Orama's great understanding of window systems, their eagerness, and skill to rethink things in order to cater to architectural needs."

A visionary is someone with a positive outlook
"Architects live in a different time zone than most other professionals, because it takes digitally, physically, practically, and mentally such a long time for a project to come to life. So, for me, in order to be a visionary one needs to be able to imagine a positive future, to have stamina and a good team by his side; a person who plans, makes the effort, and works around obstacles in order to reach his goals."